"

This is what AWESOME looks like.

"



 

— Deadpool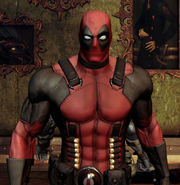 Deadpool
is a playable character in DK Network.
Extreme Healing
High Speed
Super Agility
Super Reflexes
Slash
Shoot
Kick
Shuriken Throw
Teleport: Deadpool uses his teleporter to warp towards the opponent.
Grenade Throw: Deadpool throws a grenade.
Bolo Throw: Deadpool throws a projectile which blinds the opponent.
Ultimate Move
Edit
Cuttin' Time: Slashes his opponent with both of his two swords in a mad dance-like autocombo attack. Deadpool after connecting with the initial blow rips through his opponent four times before double slashing with both katanas, finishing the attack and launching them, all the while singing "Marvelous".