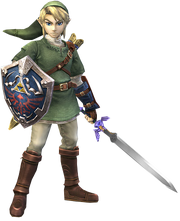 Link
is a playable character in DK Network.
Equipment
Edit
Sword: Gives Link considerable range in melee attacks.
Shield: Can automatically deflect projectiles.
Strength
Agility 
Swordsmanship 
Slash
Parry (Only against melee weapons)
Stab
Two-Hand Slash (Stronger)
Bow and Arrow Shot - Chargeable. 
Boomerang Throw
Bomb Throw
Spin Attack
Hookshot - Pulls opponent to him and temporarily immobilizes them, allowing him to attack them.
Ultimate Move
Edit
Triforce Slash: Light from the Triforce of Courage on Link's hand shoots out and traps nearby opponents in between two large Triforces. Link then dashes at the opponent(s), unleashes a barrage of sword slashes, finishing with a powerful blow with enough knockback to send the opponent flying.