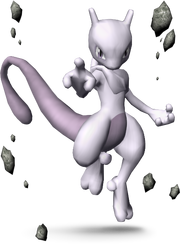 Mewtwo
is a playable character in DK Network.
Flight
Fast Rolls
Wall Walking (Telekinetically)
Shadow Energy Blast
Tail Hit
Shadow Ball
Confusion: Reflects incoming projectiles.
Teleport
Ultimate Move
Edit
Psystrike: Mewtwo rises in the air and materializes an odd psychic wave in the shape of a sphere that is used to do physical damage to the opponent.