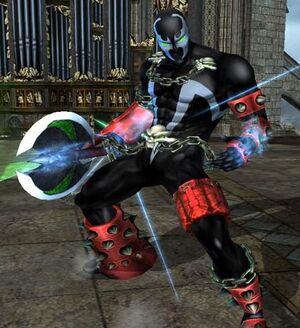 Spawn
is a playable character in DK Network.
Equipment
Edit
Agony: Agony is a double-edged axe.
Necroplasm
Levitation
Super Strength
Super Speed
Durability
Teleportation
Mind Reading
Dead Resurrection
Soul Manipulation
Fire Ball: Using his Necroplasm, Spawn releases a fire ball at the opponent.
Teleport: Spawn teleports to the opponent.
Mind Read: Spawn reads the opponent's mind allowing him to automatically dodge or counter the next move, with some exceptins.
Dead Resurrection: Spawn resurrects 5 dead minions that attack the opponent.
Ultimate Move
Edit
Soul Drain: Spawn drains the soul of his opponent.