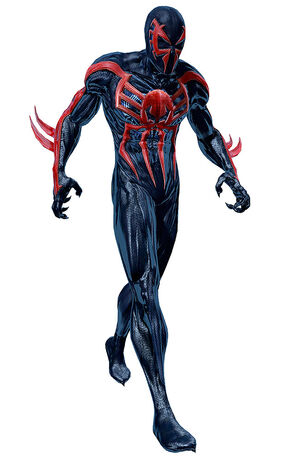 Spiderman
(aka
Miguel O'Hara
) is a playable character in DK Network.
Super Strength
Super Speed
Super Agility
High Resistance
Heightened Vision
Heightened Hearing
Enhanced Healing
Talons
Venomous Fangs
Slice
Kick
Distance Kick
Upperkick
Grab and Throw
Grab and Slam
Grab and Punch (3x)
Accelerated Decoy: Allows Spiderman to move so fast that he can leave behind a body double for enemies to attack.
Paralyzing Bite: Spiderman pulls up his mask and bites the enemy with his fangs, releasing venom into them, paralyzing them for 10 seconds.
Web Torpedo: Spiderman releases a maximum concentration of pressurized webbing that explodes on contact and sticks enemies to the environment.
Time Paradox: Spiderman creates a paradox in time freezing the opponent, and hitting them with a fatal combo.